The story of the physician Yuthok Yonan Gonpo being invited by the Yeti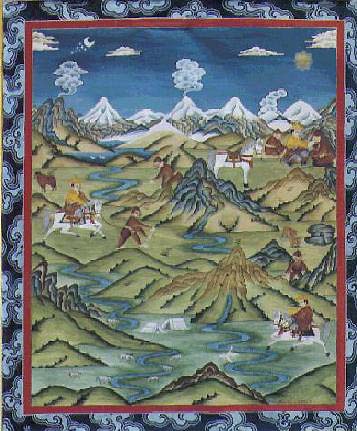 When Yuthok was riding on the way to see a patient, at the foot of a snow mountain, a female Yeti with a wishbone stuck in her throat was near death. The moment the male Yeti perceived the physician coming along the road he went up to him, seized the horse's bridle and led him to where the female Yeti was. The physician thrust his hand into her mouth and, withrawing the wishbone, saved her. The male Yeti taking a saddle-bag went to another place and put an object into it and loaded it onto the horse. The physician having mounted and departed, the Yeti followed him to give him the horsewhip which the physician had left behind. Arriving in Lhasa, opening the saddlebag on the roof of his house, he found two women's headdresses of turquoise. Spreading the turquoise on top of the house, it covered it entirely and seeing it from an hill it became famous as "Turquoise Roof."
In the year 1995 Ugyen Dorge and Ngawang Tsultrim composed and wrote this.
---
On to Story of Mt Everest
Back to Everest Region Photos, Photos and Maps, Nepal Trekking Home Page

---
Copyright © Nawang Chuldim Sherpa 1995
Revised 11 December, 1995