Annapurna Region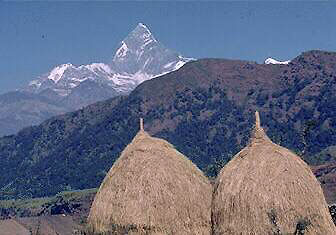 Central Nepal is dominated by the Annapurna Himal and the village of Pokhara. There are three major trekking routes in central Nepal: to Jomsom, to Annapurna Sanctuary, and a circuit of the Annapurna Himal itself. Pokhara is also a good starting place for short treks of one to four days, including the "Royal" trek, which is described here. Mustang is also geographically a part of the Annapurna region, but because treks to Mustang are subject to special restrictions, this is described it in the separate page on restricted area treks. About two-thirds of the trekkers in Nepal visit the Annapurna region. The area is easily accessible, hotels in the hills are plentiful, and treks here offer good scenery of both high mountains and lowland villages.
Annapurna Conservation Area Project (ACAP)
ACAP was established in 1986 under the guidance of the King Mahendra Trust for Nature Conservation. The project encompasses the entire Annapurna range, more than 7600 sq km. In an innovative approach to environmental protection, it was declared a "conservation area" instead of a national park. A large number of people live within the protected region, but traditional national park practices dictate that few, if any, people reside within park boundaries. In an effort to avoid any conflicts of interest, ACAP has sought the involvement of local people and has emphasized environmental education.

ACAP projects include the training of lodge owners, with an emphasis on sanitation, deforestation and cultural pride. They have trained trekking lodge operators and encouraged hoteliers to charge a fair price for food and accommodation. ACAP encourages the use of kerosene for cooking throughout the region, and requires its use above Chhomrong in the Annapurna Sanctuary and on the route between Ghandruk and Ghorapani. ACAP is supported by a "conservation fee" of Rs 650 that is collected from all trekkers who obtain trekking permits for the Annapurna region.

ACAP has encouraged the construction of toilets throughout the area; use them no matter how disgusting they are. ACAP has also made provision for the supply of kerosene in those parts of the conservation area where the use of firewood by both trekking groups and hotels is prohibited.

In Pokhara, visit ACAP's Trekkers Information & Environmental Centre next to the Hotel Lakeside. In addition to providing information, the centre sells iodine, solar battery chargers and other products that can help you to protect the environment while you are trekking. There is also a "trekkers meeting board" and a battery drop-off centre.
---
8 Days of trekking to Ghorapani
Maximum Elevation 2775 metres (9100 feet)
Day 1: Fly to Pokhara, drive to Birethanti
Day 2: Birethanti to Ulleri
Day 3: Ulleri to Ghorapani
Day 4: Ghorpani to Banthanti
Day 5: Banthanti to Ghandruk
Day 6: Ghandruk to Landrung
Day 7: Landrung to Dhampus
Day 8: Dhanpus to Phedi, drive to Pokhara, overnight in hotel
Day 9: Fly to Kathmandu
On to next Annapurna Region Trek, Low Altitude Trek, Short Trek

---
10 Days of trekking to Jomsom and Muktinath
Maximum Elevation 3710 metres (12,175 feet)


The views of the mountains are spectacular, and the route actually crosses to the other side of the main Himalayan range for some unusual views of the northern flanks. The entire route remains below 3000 metres, though the trek is still strenuous enough to be stimulating (see the Route Profile for the trek around Annapurna). This is a good trek if you wish to avoid high altitudes.
Day 1: Fly to Pokhara, drive to to Birethanti
Day 2: Birethanti to Tikedungha
Day 3: Tikedungha to Ghorapani
Day 4: Ghorapani to Tatopani
Day 5: Tatopani to Kalopani
Day 6: Kalopani to Jomsom
Day 7: Jomsom to Muktinath
Day 8: In Muktinath
Day 9: Muktinath to Jomsom via Kagbeni
Day 10: Fly Jomsom to Kathmandu via Pokhara
On to next Annapurna Region Trek, Low Altitude Trek, Two Week Trek

---
12 Days of Trekking to Annapurna Base Camp
Maximum Elevation 3900 metres (12,800 feet)


The route to Annapurna Sanctuary (Annapurna Deuthali in Nepali), the site of the Annapurna south face base camp, is a spectacular short trek. Though it has some steep climbs, the trek is not difficult. The major problem with this trek is that it can become impassable because of snow and avalanches in winter and early spring. It is the only major trekking route in Nepal that has significant avalanche danger, so you must inquire locally whether the trail is safe. Some trekkers have died because of avalanches, and others have been stranded in the sanctuary for days. The sanctuary trek traverses a variety of terrain, from lowland villages and rice terraces to glaciers, and offers outstanding high mountain views. This trek is a fine opportunity to surround yourself with Himalayan peaks in a short time, without having to contend with the altitude and flight problems of the Everest region.
Day 1: Fly to Pokhara, drive to Phedi, trek to Tolka
Day 2: Tolka to Chhomrong
Day 3: Chhomrong to Bamboo Lodge
Day 4: Bamboo Lodge to Himalayan Hotel
Day 5: Himalayan Hotel to Machhapuchhare Base Camp
Day 6: Machhapuchhare Base Camp to Annapurna Base Camp
Day 7: Annapurna Base Camp to Deorali
Day 8: Deorali to Doban
Day 9: Doban to Chhomrong
Day 10: Chhomrong to Ghandruk
Day 11: Ghandruk to Birethanti
Day 12: Drive to Pokhara
On to next Annapurna Region Trek, Trek less than 14,000 feet, Two Week Trek

---
18 Days of Trekking across Thorung La
Maximum Elevation 5416 metres (17,770 feet)


This trek travels around the entire Annapurna massif, visiting the Tibet-like country on the northern slopes of the Himalaya and the dramatic Kali Gandaki Gorge. Much of the trek is through lowland country, but there is one high pass, Thorung La. The pass is not difficult, but this is still a long trek at high elevation. You should be aware that you might have to return to Dumre if it is impossible or dangerous to cross Thorung La because of snow or altitude sickness. There are years when the weather allows it to stay open, but Thorung La is usually snowbound and closed from mid-December to mid-April.
Day 1: Dumre to Besi Sahar
Day 2: Besi Sahar to Bahundanda
Day 3: Bahundanda to Chyamje
Day 4: Chyamje to Bagarchhap
Day 5: Bagarchhap to Chame
Day 6: Chame to Pisang
Day 7: Pisang to Manang
Day 8: Manang
Day 9: Manang to Letdar
Day 10: Letdar to Thorung Phedi
Day 11: Thorung Phedi to Muktinath
Day 12: Multinath to Kagbeni
Day 13: Kagbeni to Marpha
Day 14: Marpha to Kalopani
Day 15: Kalopani to Tatopani
Day 16: Tatopani to Ghorapani
Day 17: Ghorapani to Tikedungha
Day 18: Trek to Birethanti, Drive to Kathmandu
On to next Annapurna Region Trek, High Altitude Trek, Long Trek

---
4 Days of trekking in the Annapurna foothills
Maximum Elevation 1730 metres (5700 feet)


This is an easy, short trek that starts near Pokhara and offers good mountain views. It gained its name because Prince Charles and an entourage of 90 guests, camp followers and staff trekked here. The trek has also seen the likes of such luminaries as Mick Jagger. The route is not a popular one, so you will see few other trekkers.

Day 1: Pokhara to Kalikastan
Day 2: Kalikastan to Shaklung
Day 3: Shaklung to Chisopani
Day 4: Chisopani to Pokhara On to Central Nepal Treks, next Low Altitude Trek, Short Trek

---
Contents copyright © 1995, 1998, trekinfo.com. All rights reserved.
Revised: 1 August, 1998
---